Rural Care is a day provision that provides work related experiences for people with learning disabilities and/or mental health issues in a supportive and caring environment.

We are based over two sites in Hertfordshire, Church Farm, a 175 acre farm in Ardeley and here at Aldenham Country Park on our 100 acre country park surrounding a 60 acre lake.
Co-farmers work in small mixed ability teams in a variety of jobs to suit individual interests, needs and abilities
Co-farmers are supported by fully qualified and experienced staff
We help look after livestock, grow fruit and vegetables, get involved in nature conservation work and crafts as well as make new friends
A typical day might involve collecting the eggs, feeding the pigs, sowing seeds or harvesting vegetables.
Each day varies throughout the season.  Because of this our Co-Farmers get an understanding of how food is produced from field to fork.
Everyone is offered a choice of what activities they want to try or get involved in.

Everyone who attends Rural Care is treated as an individual and a person centered support plan is created for each Co-Farmer.  We encourage active experiences and learning in an environment where we can challenge, nurture and enable people.
What we offer here can help to bridge the gap between school/college and independent living.  By developing life and social skills, we increase self esteem, confidence and encourage stability.
We have seen that purposeful outdoor activities aids mental health and emotional wellbeing.
"I work here! I like coming here. We cleaned out the chickens and they looked so happy with their new straw" - June

"Weeding - I love weeding!"  - Janice

"The orphaned lamb sits on my lap and I have to feed it milk with a bottle. The lamb thinks I am his dad" - Ronald

 

 
Give us a ring or This email address is being protected from spambots. You need JavaScript enabled to view it. us for an application form and to arrange a visit to either site.
After this you will be invited for a taster day. During the day you will get involved in a variety of jobs so we can see if you like it and how much support you might need.
The next step is to organise the funding and transport.
Co-farmers are charged according to their support needs: low, medium and high. When all that is in place, you can get started!
Rural Care is open Monday-Friday throughout the year from 10am - 3pm.
For more details contact:
Ann De Bock - Rural Care Director
Tel: 07507 890245
Email: This email address is being protected from spambots. You need JavaScript enabled to view it.
Church Farm, Ardeley, Hertfordshire, SG2 7AH
Aldenham Country Park, Aldenham Road, Elstree, Hertforshire, WD6 3BA
We can send you an application pack, and them offer a visit and free taster day.  You can then decide if this is something you would like to attend on a regular basis.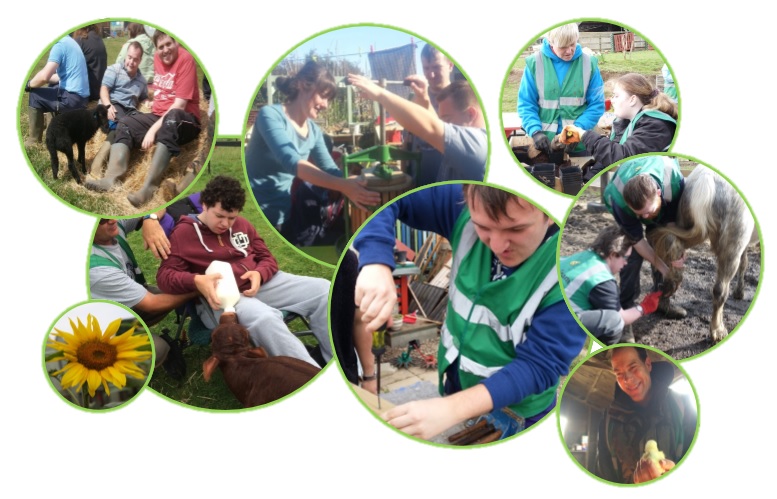 A one off sum helps buy us one of the following items.



£15 will buy a light weight shovel for a co- farmer with learning disabilities at Rural Care to muck out the pigs more easily in Home field.


£40 will buy a new wheelbarrow for one horticultural interns to cart the fresh vegetables to the cafe, the shop and pub.

 

A regular donation to Rural Care

Supporters help provide facilities and care with a standing order and regular donation from £2 a month