Multi-Sensory Playground
The outdoor playground is designed to harmonise three different areas of free style, sensory and adventure play. Accessible in all seasons, it is set in a natural woodland which enhances the whole experience. 
The Hobbit Tunnel is tactile with neon and touch sensitive lighting and gives a higher vantage point on the overhead bridge. A sandy play area to its rear contains various hand crafted timber characters and animals, hidden objects and a sleeper style climbing wall.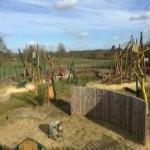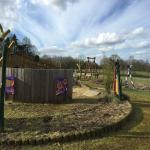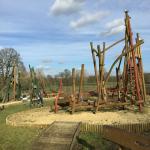 Sensory Play
Children can discover various play points in the playground to stimulate sensations of sound, vision, touch and smell. A great range of play pieces, landscaping and planting work together for exploration. Features include Rotating Optical Chimes, Distorting Mirrors and various musical instruments. 
Adventure Play
Robinia Timber adventure play points within sandy play areas encourage movement and provide different vantage points. Within the playground are a range of different wooden adventure play pieces. 
Among the favourites: 
A tree-house with a wide slide and various climbing structures in wood and rope which is situated along the forest treeline to enhance the experience of free play and adventure
A Robinia Timber Cable Ride which provides a real sense of speed and adventure and a basket seat swing for more relaxed play